Events
Check back shortly. More events coming soon!
Silencing Hate or Chilling Free Expression?
November 1 @ 12:00 pm

-

1:30 pm

EDT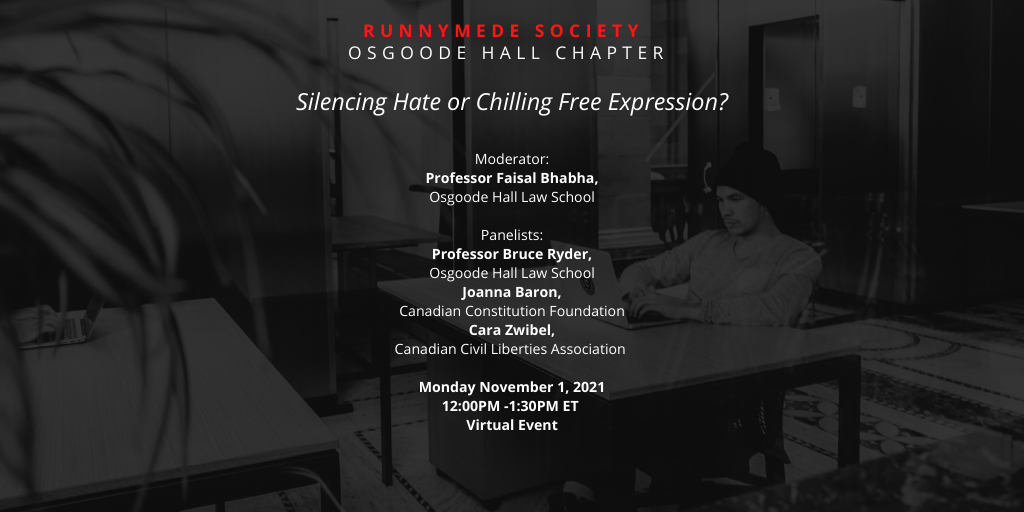 In Canada, it's a criminal offence to wilfully promote hatred. Scroll through Twitter of Facebook and it's clear that these laws don't prevent hate from spreading.
The Liberal government has plans to fix this. Their proposal, outlined earlier this year in Bill C-36, would allow judges to place severe restrictions on liberty backed up by threats of jail time based solely on someone's fear that a person might commit a hate crime in the future. Their proposal would also reinstate the Canadian Human Rights Tribunal's ability to hear complaints relating to hate speech. If the Tribunal is satisfied on a balance of probabilities that someone has communicated speech online that "expresses detestation or vilification", the Tribunal could issue cease and desist orders, award individuals or groups compensation of up to $20,000 for each person targeted by the hate speech, and impose fines of up to $50,000.
Some legal experts believe that new laws are necessary to prevent serious harms that flow from hateful speech. Others worry the new regime could prevent people from exercising their right to freedom of expression by speaking out on controversial topics.
Join the Osgoode Hall chapter of the Runnymede Society on Monday, November 1 at 12 PM EDT for Silencing Hate or Chilling Free Expression, a moderated panel discussion on the proposals. This free webinar event will feature Osgoode Hall's Bruce Ryder, the Canadian Civil Liberties Association's Cara Zwibel, and the Canadian Constitution Foundation's Joanna Baron, moderated by Osgoode Hall's Faisal Bhabha. All are welcome.
Zoom registration: https://zoom.us/webinar/register/WN_y2hPxcnCRI-Ru3tHIj4o-g